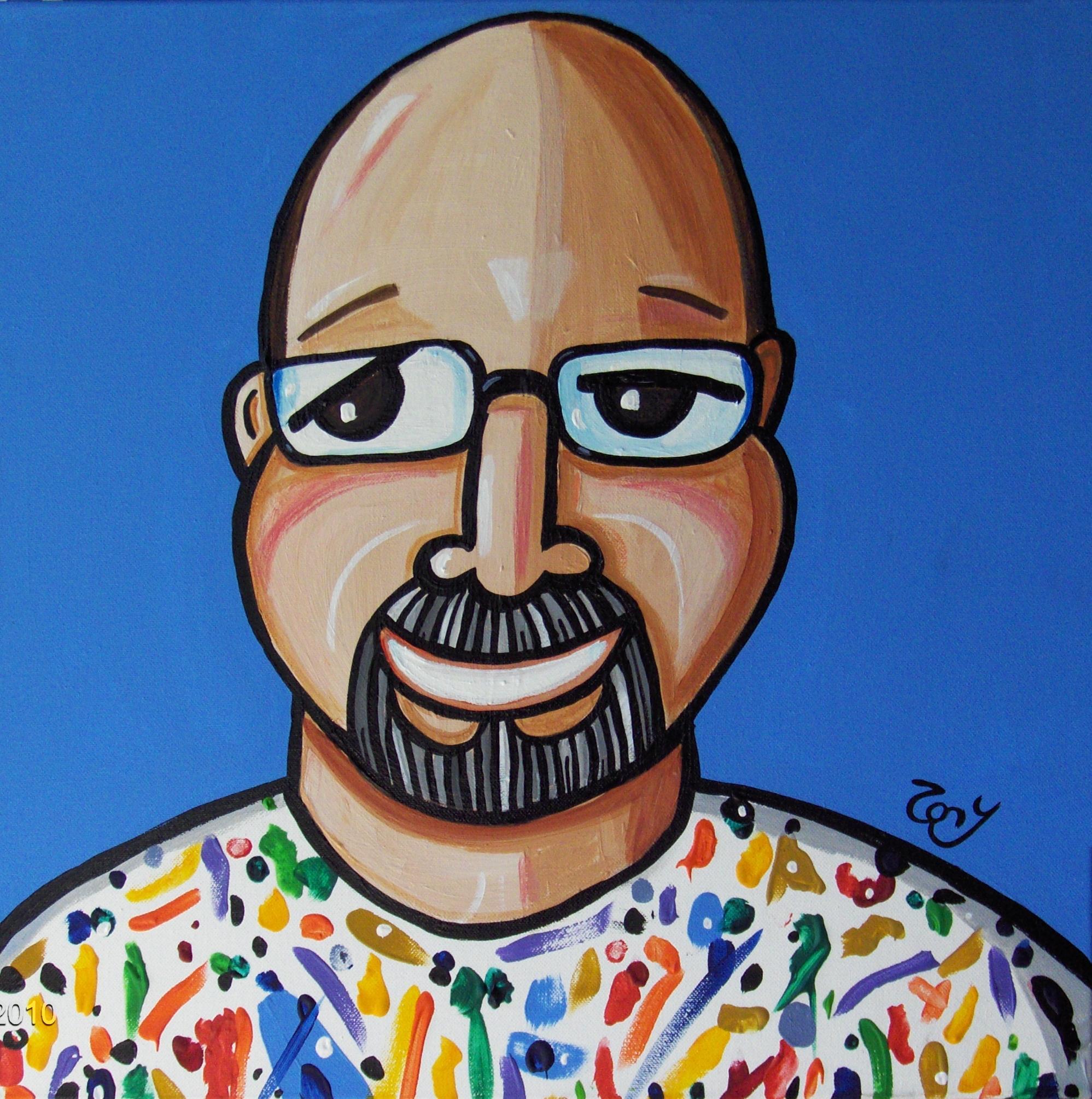 TONY MENDOZA
Winner of the 2007 Arte Hispana Competition
Artist Tony Mendoza was born in New York to Cuban parents, but raised in the Little Havana neighborhood of Miami. This guy's work is so vibrant and colorful! He intimately captures the daily life of Little Havana with style and best of all, a great sense of humor.
I Cuban.com Magazine – Three Guys from Miami
With a cavalcade of colors, a smattering of Café Bustelo, a riotous mixture of cigar smoke, palm trees and the rounded edges of the female form, Tony Mendoza's raucous street art defines the Cuban American Experience and Samba beat of Calle Ocho more succinctly than any photograph or sociological treatise.
Ryan Jarrell – Brickell Magazine
Cuban-American artist Tony Mendoza reflects in his visual work the icons of the cultures he grew up with. Mendoza literally captures with vibrant colors and clean lines, the sayings and slang from Cuban folklore on canvas, and his creations can be quite humorous.
Cira Apitz – El Nuevo Herald
Working in the pop art style, the visual artist of Cuban origin jumps to fame reflecting with humor and color the spirit of the immigrant in Miami. Addressing themes that permeate the everyday life of any Cuban in South Florida, Tony Mendoza portrays the indelible mark of a mixture of cultures that defines and influences Miami's intimate and public life.
Camila Mendoza – El Diario de Las Americas
Mendoza's art described as cartoon & pop-art because of its signature bold color and cheerfulness, it reflects his Little Havana upbringing.
Jessica Dufrense – Miami Herald
Miami's Latin Quarter is brought to life on paper and canvas with bright eye-catching colors and all that life artist Tony Mendoza grew up with in his childhood home of Little Havana, a visionary a glance at the ethnic charm of life in the Latin district.
Charlene Arsenault – Worcester Magazine
Local artist Tony Mendoza stirs the spicy pot of ajiaco with a tasty new series of wildly colorful work, Little Havana Comidas, depicting traditional Cuban fare he renders in a bold, slashing style. No shrinking violeta, Mendoza!
Carlos Suarez de Jesus – Miami New Times
Select Exhibits
EPCOT @ Disney World – Orlando, Fl 2004
Solo Exhibit – Moore Multicultural Center – Cocoa Fl 2004
Solo Exhibit – IACC – Worcester, Ma 2005
"Featured Artist" Ybor City State Museum – Tampa, Fl 2006
Exhibit and Lecture – Lowe Art Museum – Coral Gables, Fl 2008
Solo Exhibit – Hialeah City Hall – Hialeah, Fl 2009
Solo Exhibit – Bloomingdales – Aventura, Fl 2009
Solo Exhibit – South Florida Museum – Bradenton, Fl 2010
Solo Exhibit – Aperture Studios – Miami, Fl 2011
Limited Edition Print Exhibit – Buell Children's Museum – Pueblo Co 2011
Guayabera: Story of a Shirt Exhibit – Miami History Museum – Miami Fl 2012
Solo Exhibit – Rodez Art Gallery – Coconut Grove, Fl 2012
Solo Exhibit – Federacion Mercantil Hispana – Union City, NJ 2013
Mano Hispana Group Exhibit – Milander Art Center – Hialeah, Fl 2014
Solo Exhibit – Rubin Studio Gallery – Miami, Fl 2015
Solo Exhibit – Village Design Gallery – Ft. Lauderdale, Fl 2017
Solo Exhibit – Artserve – Ft. Lauderdale, Fl 2017